No, I don't have any big confessional, sorry readers :) But it's been awhile since I blogged.
The end of the school year was a crazy whirlwind of activity, immediately followed by a week-long camping trip with my in-laws, and now here I am a week later, finally "settled." HELLO SUMMER!!
So here's a little bit of what's going on...I'll write more later on camping and training/racing:
My little brother (who I adore), has lived in our house for the last two years while he completed his Masters degree at Illinois State University...after graduation he landed a job working high-end sales for the Phoenix Suns, so he is GONE! :( I feel like an empty-nester already. I am so excited for him though... and I'm especially excited for reasons to visit Arizona on a regular basis!! Love you Don!

Mootin' home from graduation!

I've been getting into wine lately. First of all, we discovered a NEW winery 9 miles away from our house (yes I've already cycled to/from there...), and I am obsessed with two of their wines. When you get a chance to visit White Oak Vineyards in Carlock, IL, here's what you can sample to get a taste of my flavah:

The vineyard dogs! And my sweet JHC gear :)
Bernese Red- Frontenac grape. Named after their super-friendly Bernese mountain dog! You can read their "professional" description of it, but I'll tell you that it is a deep, spicy red wine with a delicious and surprising vanilla aftertaste. YUM.
Landhaus- Norton grape. I am in LOVE with Norton wines. I cannot eloquently describe the flavor... it is very unique, you'll probably love it (as I do) or hate it. It is dry, tart, and spicy... sooooo good. Through some very in-depth research (ie google), I found that norton grapes were first cultivated in the Virginia and dominate the mid-western US wine industry... how convenient, because that's where I LIVE!! :)
For the sweet-wine lovers, definitely try their Golden Days Seyval Blanc... it was named after their other sweet puppy, a golden retriever. It's a cool, sweet treat on a summer day!
I have more wine adventures to share... but I'll entertain/bore you with them another day :)
Back in 2003, I started doing triathlons. I got a SWEET bike for my birthday to race on- it looked something like this:
Good thing it is a ladies' bike... the "top tube" doesn't affect the dresses/skirts I wear in training, ha! :)
Needless to say, after my first season of triathlons I upgraded :) My mom took over the hybrid bike and it's been hanging in her garage ever since :) I've been looking for a hybrid bike to use for commuting, race-spectating, and getting around town when we are camping with the motorhome, so the blue beauty and I will be REUNITED after 9 years! I am looking to dress her up a little bit with some funs bags, here's what I've been looking at:
Bontrager Funk Trunk: cooler &speakers...perfect for tri spectating or camping!! Attaches to bicycle rear rack.
Bontrager rear pannier...perfect bag for work or the farmer's market! It's pretty big. Thanks Alyssa for the tip!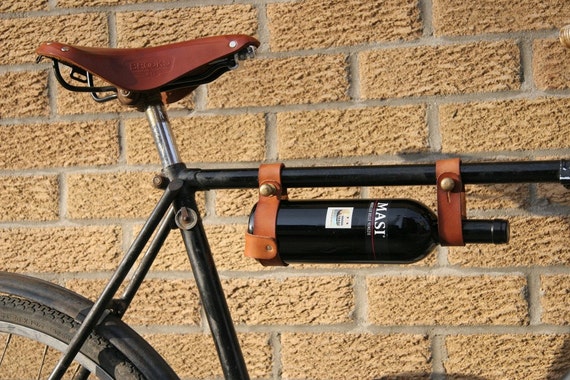 What?? :) How did I find that?? :)
cool bike storage in Uptown Normal!
LOVE THIS. Bike tools and pump. I have found two in the community! (Uptown and the Triangle)
Of course Winston gets a doggie sundae if we are in uptown!
...and then passes out in the bike shop :)